For many years, businesses have struggled with how to setup digital signage in their lobbies and throughout their business. Digital signage is useful for displaying announcements, news, educational content, weather, and other videos and image slides.
Most businesses resort to running long cables from computers to TVs, or in some cases, purchasing an expensive Android box that they have to maintain separately.
Introducing Bark DS (Digital Signage) – a new and improved way of powering your business with digital signage. With Bark DS, all you need is a TV and an Amazon Fire TV Stick (~ $50), and you're off to the races.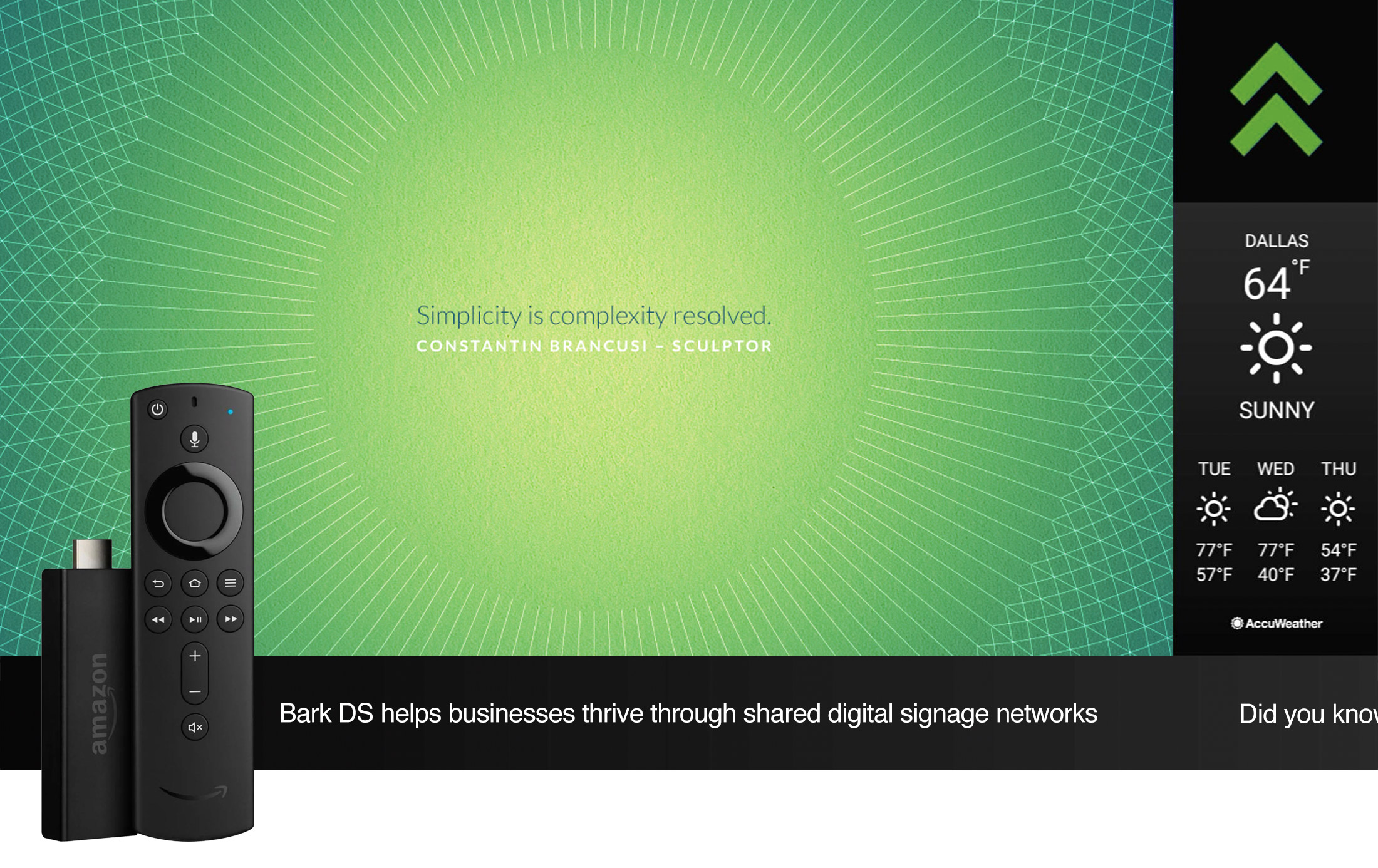 With Bark DS, you can schedule whatever content you want on any one of your TVs. You can choose from a combination of our media (inspirational sides, photography) and your own media, which can be securely uploaded through the web. You can also subscribe to partner Content Channels, which gives you access to even more media.
Where the power of Bark DS really shines – is in its ability to collaborate with a group or franchise. Picture this: Your business is part of a larger group of businesses throughout the country. Your business has its content that they want to display regularly (announcements, events, etc.), but as part of the group, you also get access to the group's shared content which they have created. Think "educational slides", "group events," etc. By having one central communication hub, when the group makes an addition/update, each business can automatically syndicate the content on whatever TVs they like. Everything is fully customizable.
If you're part of a group that would like a completely white-labelled digital signage platform, we can do that too! Take ChiroMedia for example, a shared digital signage solution for chiropractors.
Bark DS costs $49/m per device, or you can save 50% per device by choosing a Site License (which includes up to 10 devices) for $245/m.
For more information, contact us or visit BarkDS.com.